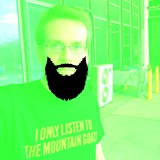 Uncle Bogie 
is one of 
Uncle Baas's
 children and part of 
The Main Twelve
. He is the only child of the main twelve that has Uncle Baas's
shapeshifting
 ability but is limited to humans and always has the same, black beard. He has no universe, but lives in 
ours
 roaming around Earth as a green human with a beard.
Abilities and Powers
Like said above, he has the ability to shapeshift to look like any human. He can also use his beard like a hand. Like all other uncles, he can teleport to Uncle Mansion at anytime.
Role in the Great Snake War
In The Great Snake War Uncle Bogie helped by beating people up with his beard and killing Major Antonio Anaconda.
Ad blocker interference detected!
Wikia is a free-to-use site that makes money from advertising. We have a modified experience for viewers using ad blockers

Wikia is not accessible if you've made further modifications. Remove the custom ad blocker rule(s) and the page will load as expected.