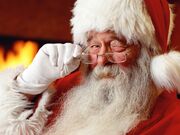 Uncle Santa 
is 
Uncle Baas's
 first born son and part of the 
Main Twelve
. He is in charge of the universe 
Crismus
 and and is god of winter, ice, beards, and holidays.
Powers and Abilities
He is able to stand extremely cold temperatures. He can make gifts apear out of nowhere and is able to control his beard as an extra arm. Like every other uncle, he can teleport to Uncle Mansion at any time. He can also freeze people.
Role in the Great Snake War
In the Great Snake War, Uncle Santa helped defend Uncle Mansion. He used his army of snowmen and elves to help.
Christmas Time
Uncle Santa is one of the few people to be able to travel to another universe no matter what that ruler says. He can only do that with one universe, and that is ours. He is able to travel here to deliver presents every Christmas, no matter what Uncle Bill Clinton says.
Ad blocker interference detected!
Wikia is a free-to-use site that makes money from advertising. We have a modified experience for viewers using ad blockers

Wikia is not accessible if you've made further modifications. Remove the custom ad blocker rule(s) and the page will load as expected.